Watch how to add or sign in to multiple accounts at once in Gmail.
If you're tired of signing in and out, or opening up new browsers in order to check all of your accounts at the same time, you can use multiple sign-in. With multiple sign-in, you're able to access different Google products with up to 10 accounts using tabs in the same browser. Multiple sign-in is automatically enabled for all Google Accounts.
Your default account
If you use multiple sign-in, the first account you use to sign in during that browser session will be yourdefault account for the rest of that session. If you visit other Google products that don't support multiple accounts after you've signed in, you will automatically sign in to your default account for that product. If you sign out of any Google product while signed in to any account, you will be signed out of all your Google Accounts at once.
To sign in to additional accounts:
Sign in to a product that supports multiple sign-in, using an account that has multiple sign-in enabled.
Click your name or email address at the top of the page.
Select Add account from the drop-down menu.


On the page that opens, enter the email address and password for another account you wish to access, and click Sign in.
Once you're signed in to more than one account in the same browser, you can easily switch accounts in the same tab. Just click your name or email address at the top and click on the email address you'd like to sign in to.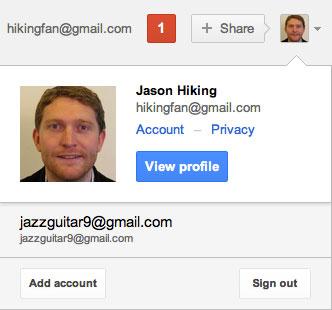 Products with multiple sign-in
You can use multiple sign-in with the following desktop versions of these Google products:
Alerts
Calendar
Code
Docs (Google Apps accounts only)
Finance
Gmail
Google+
Google Moderator
Groups
iGoogle
Maps
News
Profiles
Reader
Sites
Voice
Web Search
YouTube
Features of Gmail that depend on other Google products won't work with any additional accounts you sign in to. For example, the Calendar Gadget in Gmail labs won't work with additional accounts because the Calendar Gadget does not yet support multiple accounts.
Using products without multiple sign-in
Other Google products and the mobile versions of the above products do not support the use of multiple accounts in the same web browser. Instead, they default to the first account that you signed in to from your current browser.
If you want to use an account with a product that doesn't support multiple accounts, you have two options:
Sign out of all your Google Accounts and then sign in to the account you want to access.
Open a different web browser and sign in to another account from there. Learn more.