Watch How to Protect a Range
Protected Ranges allows you to select a range of cells and choose which collaborators have permission to edit those cells, and which collaborators should only be able to view those cells.
Protect a named range
When creating a new range, you'll see the option to protect your range before saving it: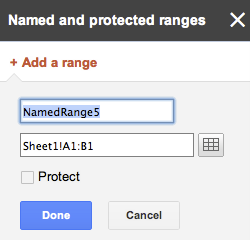 After defining and naming the range, check the Protect checkbox, and click Done. This will open a dialog box that lists your document collaborators and their access settings.
To change a collaborator's access to the range, click on the drop-down menu to the right of their name and choose to grant them Comment or Edit access.
Click Done.
To protect a range you had previously named and defined, follow these steps:
Select that range in the Named and protected ranges panel.
Click the Edit button.

Click Add permissions (or Modify permissions if you are making changes to range protection settings). From here, follow steps 2-3 above.
Collaborators who try to edit a cell in a protected range they don't have edit access to will receive an error message. When opening a spreadsheet with protected ranges, individuals will see ranges they don't have edit access to displayed with a checkered background. If the background pattern makes it difficult to read spreadsheet content, you can hide protected ranges by pointing your mouse to the View menu and unchecking Protected Ranges.
Reference: Google Gooru - Protecting Cell Ranges in Google Spreadsheets