All academic courses are automatically enrolled in Canvas. If the course appears in you myBlake Faculty/Staff portal and you take attendance with the course, then you do not need to enroll your students.
However, co-curricular courses, clubs, and other non-academic courses are manually created and you will need to enroll your own students.
Step 1: In Course Navigation, click the People link.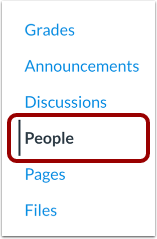 Step 2: Click the Add People / + People button.


The Add People page shows you how to submit an email address to Canvas and invite them to your course. Names are not required as part of this process.
Note: If you are copying and pasting from a spreadsheet or other type of list where names are included with email addresses, you may want to check that they are formatted in the same way as one of the gray examples in the text field. Otherwise, the names may not import correctly.
To submit an email address, type, or paste the user's email address in the type field. You can also type or paste several email addresses at one time.
Step 3: Select User Details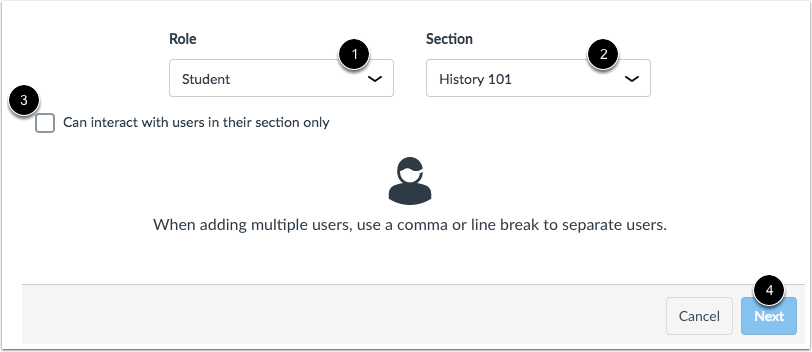 In the Role drop-down menu [2], assign the user(s) a role for the course: Student, Teacher, TA, Designer, or Observer.
In the Section drop-down menu [3], assign the user(s) a Section in the course.
Note: If you are submitting multiple email addresses at the same time, all email addresses inherit the same role and section.
Click the Next button [4].
Step 4: Canvas will validate the email address. Canvas will verify that the email is a valid email address [1]. If you are not ready to add the user, click the Start Over button [2]. Otherwise, click the Add Users button [3].
Note: If the user has previously created a Canvas account with the email address you are using, the user's name will populate in the name field [4]. Otherwise, the name field will remain blank.
Canvas will verify the student enrollment and automatically send an invitation to the course.
Step 5: Done. To send more invitations to your course, click the Add More Users button [1]. If you are finished inviting students, click the Done button [2] to return to the People page.
Please note that until the user accepts the course invitation, the student's status will display as pending. Canvas will not consider the student to be enrolled—and won't recognize the student anywhere in Canvas—until the invitation has been accepted. If necessary, you can resend course invitations.
Once the user has accepted the course invitation, you can interact with the student in the course.
Reference: Canvas KB - How do I add users to a course?