Watch How to Collect Form Responses and Send Invitations to Respond to a Google Form:
Send your form to respondents
When you've completed your form, you can send it to respondents via email or by sharing the form via social media. Just click the blue Send form button at the bottom of your form or at the top-right corner of your browser window. You can choose to share a link to your form, or you can add names, email addresses, and groups to the Add people field. Click the Done button, and the people you've added will receive an email directing them to your form.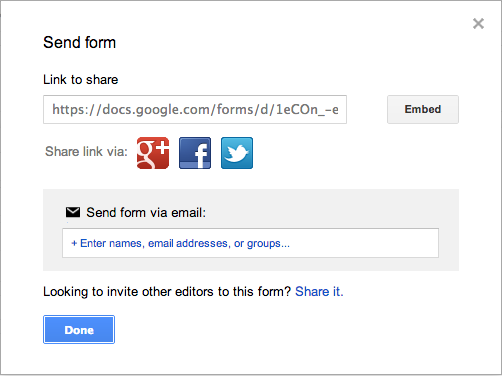 Embed a form on a website or blog
If you'd like to embed your form in a website or blog after you create your form, click the Send formbutton at the end of your form and select the Embed option. Alternatively, go to the File menu and selectEmbed. You can then paste the generated HTML into your site or blog.
Confirmation page settings
Before you send your form, you may want to change settings related to the confirmation page users will see after submitting responses to your form. You can find these settings at the bottom of your form.
To change the confirmation message users will see, edit the message in the "Confirmation message" box.
There are other settings you can adjust as well:
Show link to submit another response — Checking this box will allow users to submit as many form responses as they'd like.
Publish and show a link to the results of this form — Checking this box will give respondents access to the form's summary of responses.
Allow responders to edit responses after submitting — Checking this box will allow respondents to change their answers to your form.