Parent/guardians or an approved visitor can access the BlakeExternalGuest network with temporary credentials for up to one year.  Your access will be limited to authorized websites and services to provide additional security for the Blake community.
To request access call Support Services at 952.988.3416 or you can ask an Office Manager in a department or a division.  (If you are an approved visitor, an employee at Blake must request on your behalf.) Click here to see a list of WiFi Guest Lobby Ambassadors who can facilitate your request. 
Instructions on Logging Into the BlakeExternalGuest Network (after obtaining credentials).
 1.  Under Wi-Fi connections, join the BlakeExternalGuest network.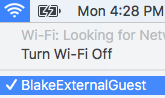 2.  After you joined the BlakeExternalGuest WiFi network, Open your web browser (Chrome, Firefox or Safari) and navigate to a web page (purple.com, nytimes.com, etc.) to initiate the login screen.

3.  You will be directed to the page displayed below. (If you do not see the page below, try refreshing your browser or navigating to a different website.)

4.  Enter the username/password credentials provided by your WiFi Guest Lobby Ambassadors.