Parent/guardians or an approved visitor can access the Blake Wireless Guest network for less than 24 hours.  To request access call Support Services at 952.988.3416.  (If you are an approved visitor, an employee at Blake must make the request on your behalf.)  
 1.  Under Wi-Fi connections, join the BlakeExternalGuest network.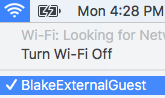 2.  After you joined the BlakeExternalGuest WiFi network, Open your web browser (Chrome, Firefox or Safari) and navigate to a web page (purple.com, nytimes.com, etc.) to initiate the login screen.

3.  You will be directed to the page displayed below. (If you do not see the page below, try refreshing your browser or navigating to a different website.)

4.  Enter the username/password credentials provided by your Lobby Administrator.