Overview
With the Zoom for Google Calendar, you can seamlessly schedule, join, and manage meetings right from Google Calendar. Then, you can distribute the password-protected URL to your Lower School Landing Page such as https://blakeschool.zoom.us/j/175649190?pwd=aWRUb...
Part A. Schedule a Meeting via Google Calendar
1. Open Google Calendar and click on a time slot for your meeting.
2. Give it a Title.
Begin with the grade level and the first initial of classroom teacher's last name (i.e. KV or 1J)
Add the subject (i.e. Strings or Math)
List a small or large group
Click the "More Options" button.
3. Enter your meeting details like the title, location, and guest list.
Invite as a guest (either the LSBC_RTLsync or LSHC_RTLsync calendar) to all large or small group meetings.
Note: Don't use this calendar for one on one meetings unless this is an open office time when someone will be online for drop-in visits.
4. In the Add conferencing dropdown menu, select Zoom Meeting.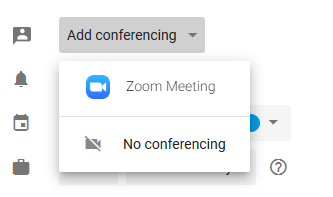 5. Google Calendar will display the join options for the Zoom meeting.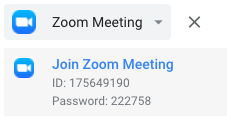 6.
Part B. Copy and Paste Password-Protected Link to Your Check-in Page