Important NOTE!
Do not have a student open in more than one browser window/tab at the same time. This causes the screens to "fight" and the blank screen may overwrite the comments you just entered with a blank comment! If you find this happening, please submit a support request and we can send you an export of anything that was saved and then overwritten by a blank comment.
Steps:
Scroll down on the landing page of your faculty portal.
Click on the class you would like to enter interim comments or quarter grades and comments.
Click on Grades and Comments at the top of the next screen.
On the left, you will see a list of the students in your class, click on the student you are looking for.
Enter your grade and/or comment.
Grades and comments will auto save.
Repeat.
See images below or watch a Loom Video.

Rating Definitions:
NB --> Not Yet/Beginning
DV --> Developing
AC --> Achieving
EX --> Extending
Homeroom Faculty will see all their sections in their one class.
Specialists will see several classes with lists based on the Homeroom they are seeing.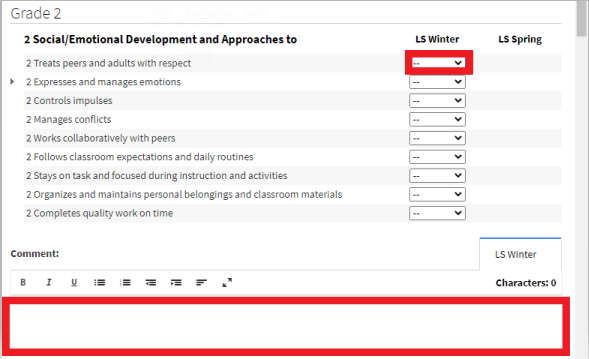 Once you are done entering all your rubric criteria ratings and comments and it is ready for LS Office review, click the green "Mark Student Ready For Review" at the bottom of your screen.