Background:
Veracross (VC) email distribution lists are used by school faculty and staff to communicate with groups of people using a single email address. More information on this tool is listed in Sending email from the Blake Veracross Faculty/Staff Portal. To take advantage of this service, you will need to ensure you have set Google Chrome web browser / Gmail to be your default mail client.
I. Optional - Installing Google Chrome from Self Service for the First Time?
Watch How to Install Google Chrome from Self Service, Set Chrome as your default Web Browser, and Set the Default Mail Client.
II. Make Gmail the default email program in Chrome
If you have installed the Google Chrome web browser from self-service, and your Mac is not opening Gmail on the Google Chrome web browser, then it will be necessary to Set Gmail as your default email client. The Google Chrome web browser requires a few steps that you may not be that familiar with. You'll have to go into those scary "advanced settings" menus, but don't worry, we're here to walk you through it. Just follow these steps to make Gmail the default email in Chrome.
1. Sign out of Gmail if you are logged in. Note, if you also sign into the Chrome browser you must sign out of Chrome as well. Click on your profile on the top right of the Chrome browser window to check.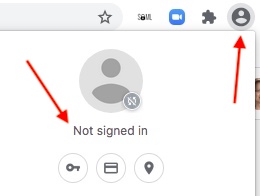 2. Open a new tab in Google Chrome.
3. Type in chrome://settings/handlers in the address bar.

4. Turn on "Allow sites to ask to become default handlers.."

5. Open another tab and log into Gmail.
6. Click on the Service handler icon

7. Click Allow, then Done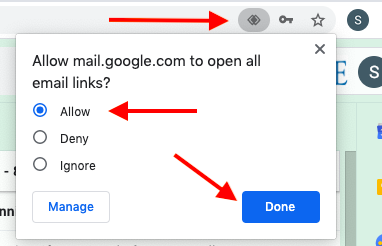 8. Go back to your Settings-Handlers tab to check mail.google.com is now the default.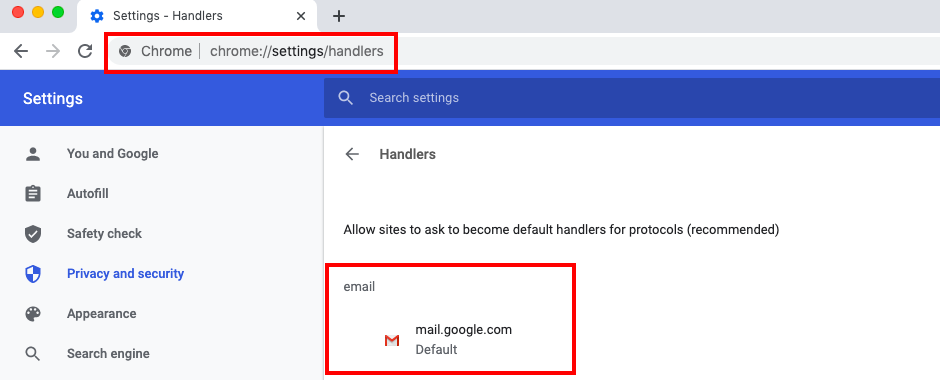 9. If you are not able to set the mail handler, please try to Quit Chrome and try again.