Log into Veracross portal
To log into Veracross Portals, either:
Enter your username and password.
If you have forgotten your username and/or password, click on Can't access your account? from the portal login page and instructions will be sent to your email.
View team roster
Click "Athletics" at the top navigation, then "My Team Rosters"
Preseason rosters will contain all prior team members and interested students (e.g., Boys Football Program). Once teams are formed, then you will access your specific team roster (e.g., Varsity Boys Football, JV Boys Football). If an interested individual is not on your preseason roster, please contact the Blake Athletics office to update the student profile.
To view or print your team roster, go to the Athletics tab and My Team Roster.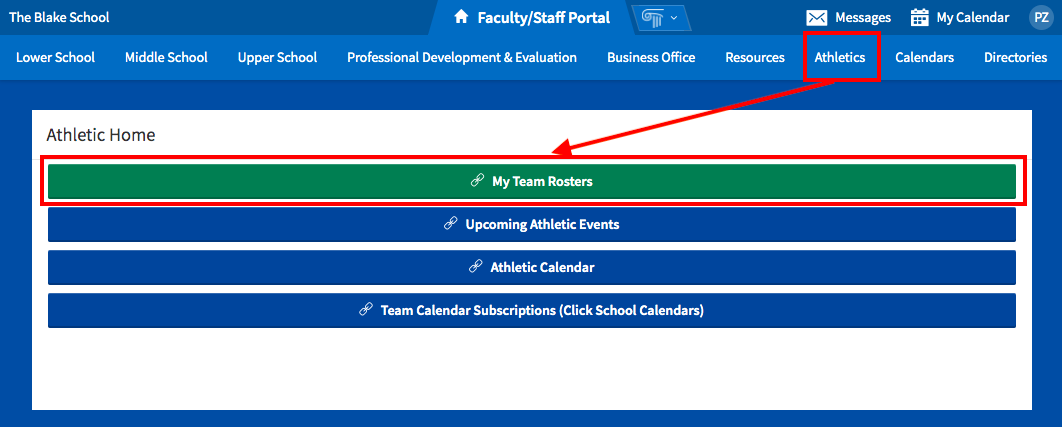 Send emails
Any correspondence to families and athletes should be done through using your custom Veracross portal team distribution lists for "Email Parents" and/or "Email Students" contacts.
Send emails using the parent and student distribution lists for the entire season as they will be automatically updated with any changes to your roster and/or parent email addresses. Distribution lists are specific to each team's coaches and are non-transferable.
To send emails directly from your email app:
See Veracross Team Emails for your team distribution lists.

Save your parent and student distribution lists for your team in your email contacts.
Alternatively, you can send emails directly from the Veracross portal:
Ensure your Chrome browser is set to open your personal email account. For more information, see Chrome - Set the default mail client to Gmail in macOS.


Click the "Teams" tab below "All Classes" on the home screen.




Hover over "Contact" to access the team mailing lists.

Note: To email all the parents of a specific student, use the "Email Parents" link found on your team roster.
View team schedule
Team practices, games/matches/meets, and other team events are viewable in the My Calendar and Daily Schedule buttons located on the home page in the myBlake portal. If you do not see a scheduled event in your view, please contact the Blake Athletics office.
Subscribe to the team calendar
To subscribe and add your team calendar to your personal calendar. For more detailed instructions, see: Calendar Subscriptions in the myBlake Portal.
Select Athletics from the top menu bar, then Team Calendar Subscriptions.


Select School Calendars then Subscribe for your team.

Update team schedule
Practices, games/matches/meets, and team meetings are on the family and athlete's personalized portal calendar. If any changes or additions need to be made to your team schedule, please contact the Blake Athletics office to have the adjustments made.